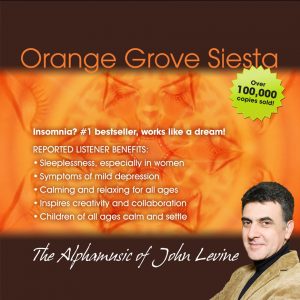 Orange Grove Siesta is called insomnia Buster. It is a natural drug-free treatment for insomnia. Recommended for people with busy minds, children with sleeping problems.
Insomnia is a serious disorder, and effective treatment can be crucial to getting the sleep you need. An exceptional treatment for insomnia, this track is especially popular with women when an overly busy mind which prevents sleep. It provides a calm atmosphere in the home, classroom or office. Reiki masters in particular recommend this music. Composed and performed by John Levine, his accompanying musicians improvise throughout the piece and their sound experiments create variance in timbre, without disturbing the overall artistic music expression. The compositions are enriched by a variety of balanced and well-matched instruments. The mesmerising tones of the Australian digeridoo weave through the music, adding an entrancing quality and special depth.
Reported Listener Benefits
* Insomnia sufferers; rapid relief from sleeping problems.
* Inspires creativity, aids communication
* Helps create a co-operative atmosphere, for example, when children are at creative play
* Deeply calming: helps when taking time out and with sleeplessness
* Restless children? Highly recommended
* Settles and calms whirling thoughts
* Natural cure for insomnia (busy mind, popular among women and children)
* Excellent for high security dementia wards
* ADHD – excellent help for teachers and parents
Composer and pianist, John Levine, based this work on the centuries–old use of pentatonic and lydian scales. Musical tension builds up slowly with no rush or rough discords. The spherical sounds can bring you to an alpha state within 4 minutes.
John Levine has vast experience as a composer and as a teacher of meditation. He believes that music has a powerful effect on the brain and can be designed to induce specific positive changes in mood and behaviour.
See Telegraph article:
http://www.telegraph.co.uk/culture/music/11211678/Can-music-therapy-really-beat-Prozac.html